Hotarubi
(蛍火)
Original Soundtrack Information

Lyrics

Ren Yamashina

Music

Tomoyuki Hamada

Arrangement

Kousuke Ooshima

Performed By

Yumi Hara
"Hotarubi" (蛍火, Hotarubi?, lit. "The Glow of Fireflies") is the ending theme of Corpse Party: Tortured Souls OVA performed by Yumi Hara.
This song and the instrumental version are featured as tracks on the single, "Hotarubi" (蛍火, Hotarubi?, lit. "The Glow of Fireflies") (FVCG-1234), by Yumi Hara. It is also featured on her limited edition album, "Place of My Life" (FVCG-1283).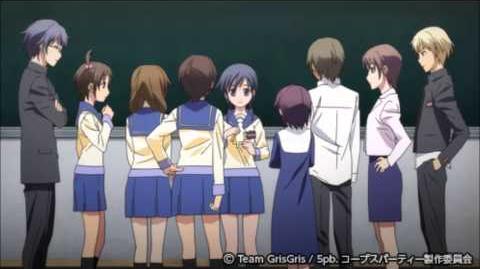 Lyrics
Japanese
Romanization
English Translation

目を覚ましたとき いつもの癖で"おはよう" 

あと何度 同じ泣きそうな顔させるの? 

me o samashita toki itsumo no kuse de "ohayō" 

ato nando onaji naki sō na kao saseru no? 

The moment I open my eyes, I always greet "Good morning" out of habit

Just how many times will I force myself to wear the same crying face?

その運命は まるで蛍火のように見えた 

風を泳ぐように 心を揺らすよ 

sono sadame wa marude hotarubi no yō ni mieta

kaze o oyogu yō ni kokoro o yurasu yo

That fate looked just like the glow of fireflies

My heart sways, like how they swim in the wind

何度も 何度も 問いかけても 

鏡に写る日々は 答えくれない 

いつかは 消えた未来もう一度 

信じたまま。。。 

nando mo nando mo toikakete mo

kagami ni utsuru hibi wa kotae kurenai

itsuka wa kieta mirai mō ichido

shinjita mama...

No matter how many, many times I question,

the days reflected in the mirror don't give me the answer

Even when the future vanished once again,

I still believed in it...

星見上げながら 聞こえない声で呟く

ほら 窓辺に咲く 花は今でも 元気ね 

hoshi miage nagara kikoenai koe de tsubuyaku

hora madobe ni saku hana wa imademo genki ne

I murmur with inaudible voice while looking up at the stars,

"Look, the blooming flowers by the window are full of life right now"

遠い時間の先 ぬくもりを知った場所で

勇気貰えたから 優しくなれたよ 

tōi jikan no saki nukumori o shitta basho de

yūki moraeta kara yasashiku nareta yo

At a faraway place where I learned the warmth from distant past,

I received courage as we gently grew closer

世界は何もなかったように 

回り続けている 次の季節へ 

一人で流れる雲のように 

歩いてゆく。。。 

sekai wa nani mo nakatta yō ni

mawari tsuzuketeiru tsugi no kisetsu e

hitori de nagareru kumo no yō ni

aruite yuku...

As if nothing ever happened,

the world continues revolving till the next season

Like flowing clouds,

I keep walking forward alone...

さよなら さよなら 空の彼方 

最後に見た笑顔 忘れないから 

もう一度 その手で抱きしめると 

約束だよ 信じている。。。

sayonara sayonara sora no kanata

saigo ni mita egao wasurenai kara

mō ichido sono te de dakishimeru to

yakusoku da yo shinjiteiru...

Farewell, farewell to the sky beyond

I can't forget your last smile that I saw

Embrace me once again with those arms

It's a promise that I believe in...